Wood Floor Sanding Weybridge
Professional floor restoration services
Professional Wood Floor Sanding Weybridge
Welcome to our Weybridge Wood Floor Sanding page, your trusted company for rejuvenating and enhancing the natural beauty of your wooden floors in the heart of the Weybridge region. 
With our passion for craftsmanship and dedication to excellence, we bring decades of experience to every project, transforming worn and weathered wood into stunning, pristine floors. 
Whether you're a homeowner looking to restore the elegance of your living space or a business owner aiming to create an inviting ambience, Completely Floorless delivers unparalleled wood floor sanding services. 
Explore the timeless allure of wooden floors with Weybridge Wood Floor Sanding, where quality meets artistry and every step is a stride towards perfection.
Our Wood Floor Sanding Process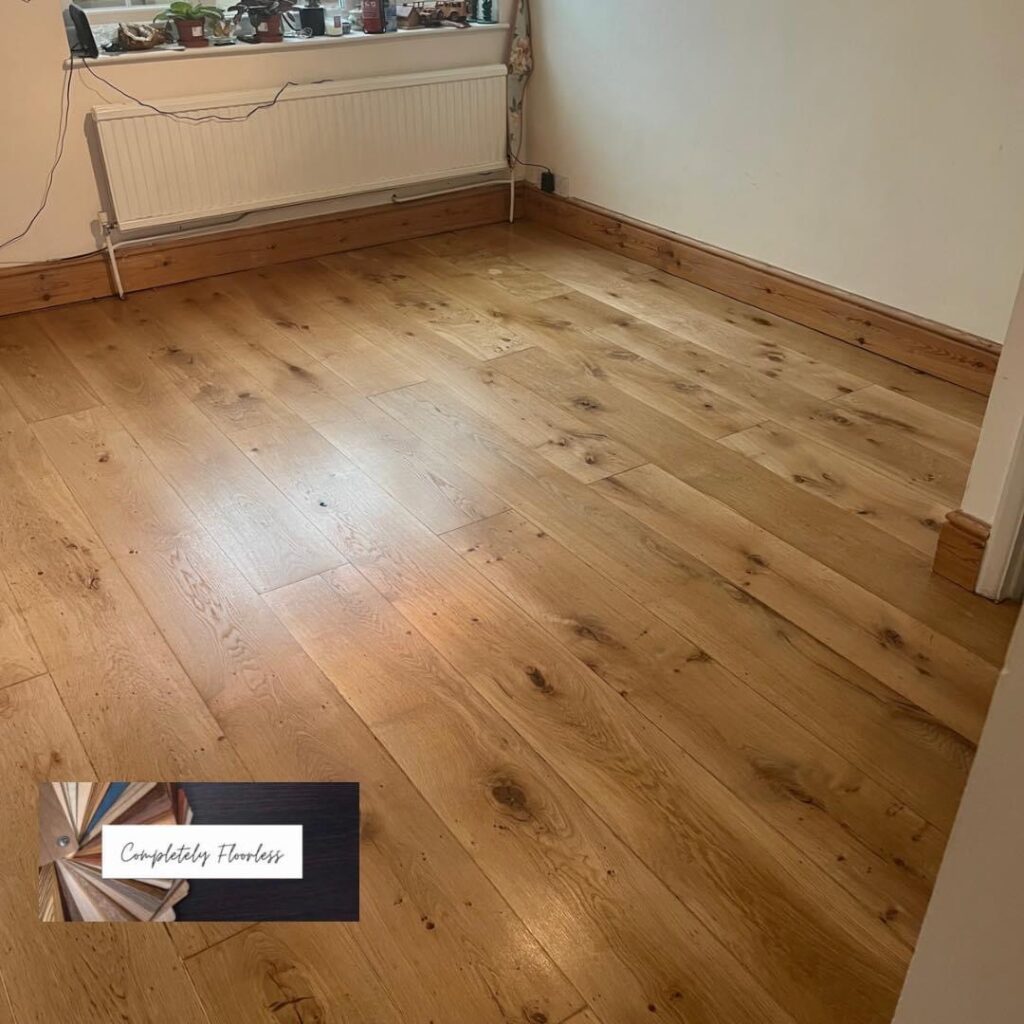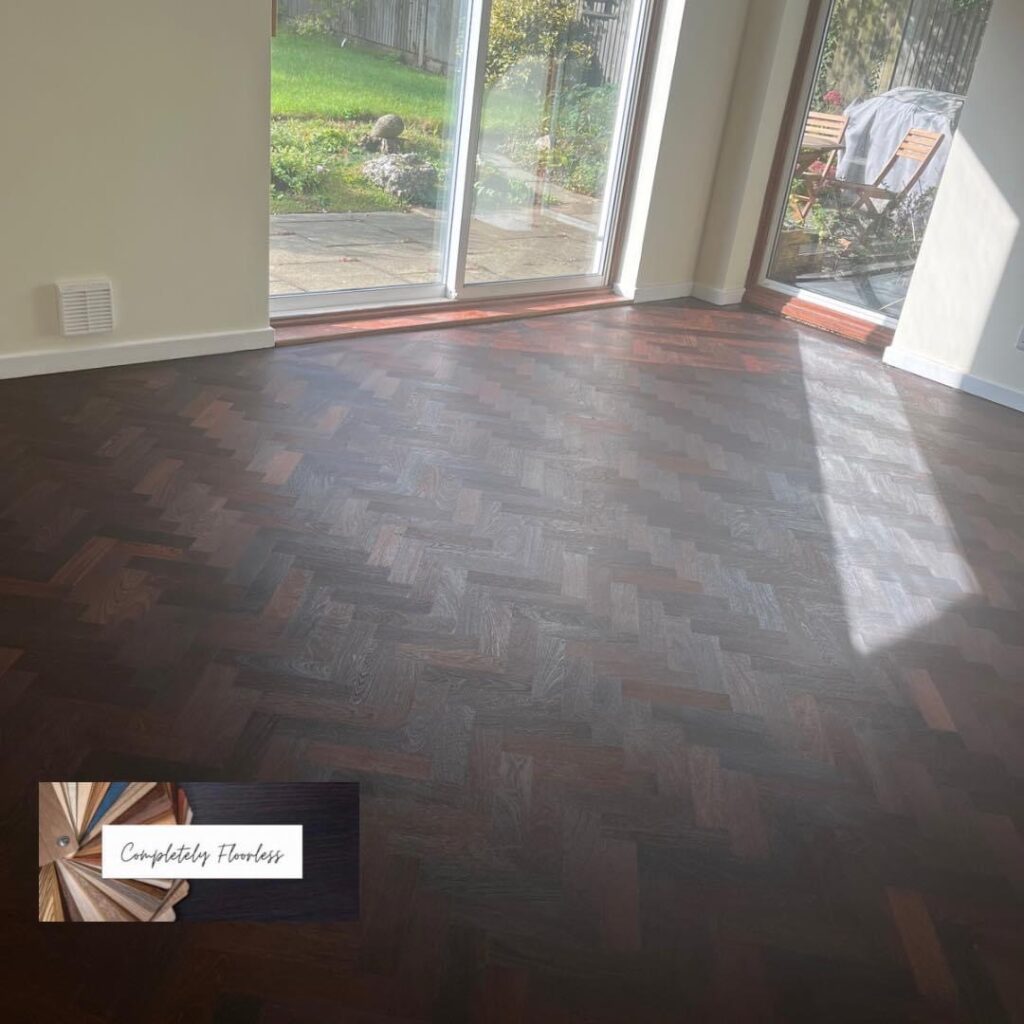 At Completely Floorless, we take pride in our meticulous wood floor sanding process that transforms tired, old wooden floors into stunning works of art. Our systematic approach ensures the best results for your Weybridge wood floors.
Inspection

: We begin by thoroughly assessing your wood floors, identifying imperfections, and discussing your desired outcome.

Preparation

: Furniture is moved with great care, and the area is prepped to contain dust, ensuring a clean and safe environment.

Sanding:

We use state-of-the-art dust-free, sanding equipment to remove old finishes and surface imperfections, uncovering the natural beauty of your wood.

Repairs:

Any cracks, gaps, or damages are expertly repaired to restore your floors to their original glory.

Staining

(optional): If desired, we offer a range of stains to enhance or change the colour of your wood floors.

Finishing:

We apply premium finishes for durability and a stunning, long-lasting sheen.

Cleanup:

Your home is left spotless, with your rejuvenated wood floors ready to impress your family members and visitors.
Experience the art of wood floor sanding with Completely Floorless, your trusted choice in the Weybridge area.
Get in touch with us today for a free no obligation quote.
We are experienced and professional Wood Floor Sanding Experts in Weybridge
Check out our array of other cleaning and restoration services we offer
Why Choose Completely Floorless for Wood Floor Sanding?
Completely Floorless is your trusted choice for wood floor sanding in the Weybridge. When you choose us, you're choosing excellence and expertise.
Experience: With years of experience, our team brings unmatched skills to every project. We've honed our craft to perfection.

Quality: Our commitment to quality is unwavering. We have invested in the best equipment and premium materials for impeccable results.

Personalised Service: We tailor our approach to your unique needs and goals, ensuring your wood floors reflect your vision.

Attention to Detail: Our meticulous approach means every detail is a manageable size. We take the time to perfect every inch of your floors.

Customer Satisfaction: We have numerous reviews from customers in the Weybridge area, which speaks volumes about our dedication to customer satisfaction.

Environmentally Friendly: We prioritise eco-friendly practices, using sustainable products, and minimising waste.
Choose Completely Floorless to experience wood floor sanding at its finest. Your wood floors deserve the best, and we deliver nothing less.
Read our reviews here and see why we are the highest-rated Wood Floor Sanding Company in Weybridge
Chris is superb and he made my floors look better than new! Also, he's a reliable guy who gave me a lot of honest advice and I highly recommend him!
Completely Floorless brought my old, very well used, parquet flooring back to life. The floor was in the house when I bought it years ago and I was never fond of the idea of covering it nor taking it up. Thank goodness I found these guys. My floor is now better than I ever imagined it could be. Very professional, friendly, knowledgeable, and thorough. I would highly recommend this company, thank you 😊
Chris restored the tired and tarnished parquet flooring in our hallway and office. With evident skill he completed the restoration within two days and has provided us with aftercare and maintenance advice that will ensure this beautiful floor will last. We will be asking for his help with other flooring in the future.
Chris restored my parquet flooring -sanding and oiling after it was hidden under carpet for a number of years. Turned up on time, explained what he was doing, tidied up. Even made the extra effort to get complimentary trim for the edges which was expertly fitted by Andy. And he drank all the coffee I made him.
Chris and his son, Aidan, transformed our wooden floor back to it's former glory, sanding and oiling it. The grain and knots are visible once again for us to enjoy. They also cleaned our kitchen tiles, resealing the grout to protect it from staining. They were exceptionally polite, knowledgeable and diligent, we highly recommend them.
Second time we've used this company which speaks for itself. Freshened up our sofa and carpets. Both look great!
Did a brilliant job sanding and lacquering a very tired and knackered wooden floor. The guys were helpful, considerate, tidy and efficient - and the floor looks amazing. Excellent. Highly recommend.
Chris from Completely Floorless was a pleasure to deal with. Responsive, punctual and most importantly, completed the work to a high standard. Highly recommended.
Had excellent service today with Chris, not only did he bring our kitchen floor tiles back to looking immaculate but also discovered a leak under the counter which would have done unimaginable damage to the kitchen floor. Well done and thank you Chris for a job well done
We're here to help! Call Us Today!
Local Wood Sanding and Restoration companies Near You